Our industrial foundation service is designed to provide an accurate and efficient structure for large-scale industrial projects. We specialize in laying the groundwork for manufacturing plants, water and waste infrastructure, and other industrial facilities. Our team uses free-form or advanced forming systems such as Duraform and Doka to provide the most suitable solution for your project's needs. With our employee's safety centric attitude and certifications, you can be assured in our ability to complete the project safely and efficiently.
Commercial & Agricultural Foundations
Our commercial and Agricultural foundation services are tailored to meet the unique needs of these industries. Our team of experts specializes in providing outstanding quality work in constructing offices, warehouses, silage pits and feed bunks alike. Whether it is new construction or the renovation of an existing space we can provide a solution for your project's needs. We are equipped with the newest technologies to ensure your structures are accurate and your loading bays and dock levelers fit every time. It is always a pleasure to show new customers what leading quality and standards look like.
Structural Slabs and Columns
FramCon's services include the installation and finishing of structural slabs and columns for both commercial and residential developments. We work with our clients closely to ensure the ground bearing or suspended slabs we are installing are of high quality, and our embedment's are accurate. Our use of precision tools ensures this high degree of accuracy on column placements and anchors needed for your project.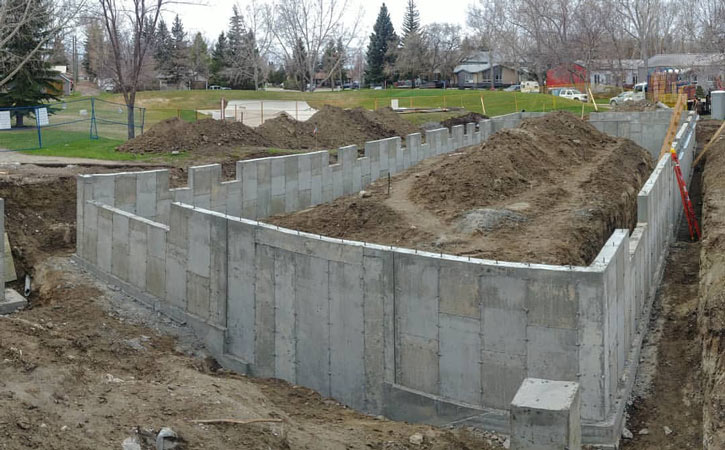 Residential Concrete Foundations
Our residential foundation service near me is focused on providing a reliable and long-lasting foundation for homes of all sizes and styles. Our team of experienced professionals works closely with homeowners and builders, ensuring that the foundation and architectural concrete is tailored to meet their specific requirements. Whether it is an exposed aggregate retaining wall or a foundation that will never be seen, our quality and standards won't be compromised. Our use of professional systems for both footings and walls will guarantee a fast and accurate installation so you can enjoy your new home sooner.